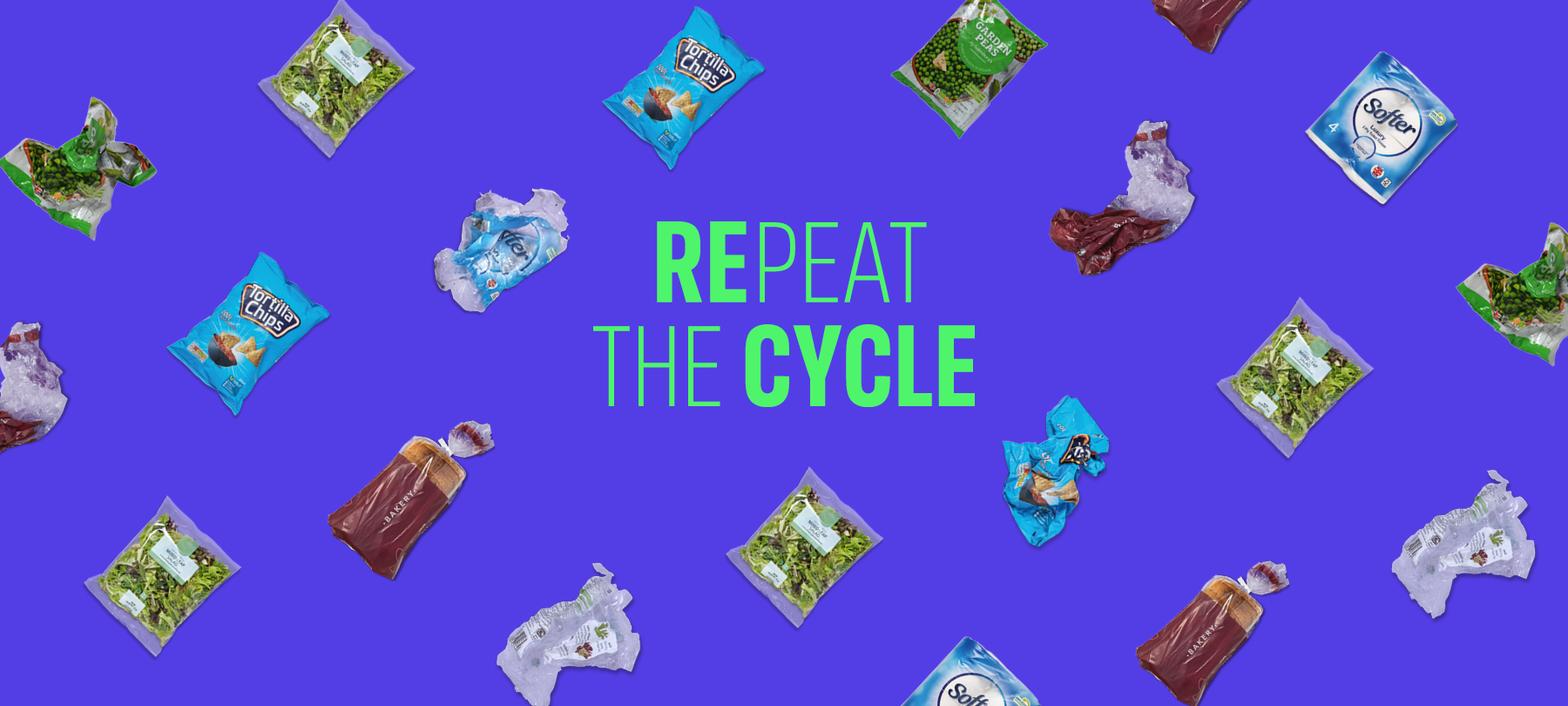 Our latest campaign, Repeat the Cycle, is celebrating that many supermarkets are now collecting plastic bags and wrapping – like bread bags, crisp packets and loo roll wrap – for recycling at front of store collection points. But what does this mean for the state of plastics in the UK, and why should we recycle our plastic bags and wrapping?
Why can't we recycle plastic bags and wrapping at home?
Currently only 17% of local authorities in the UK offer a kerbside collection of plastic bags and wrapping, however, WRAP (the charity that runs Clear on Plastics) is working with governments to ensure that this changes, and local authorities will start to increase collections from kerbside. In the interim, supermarkets are offering a collection point at front of store until this is more widespread.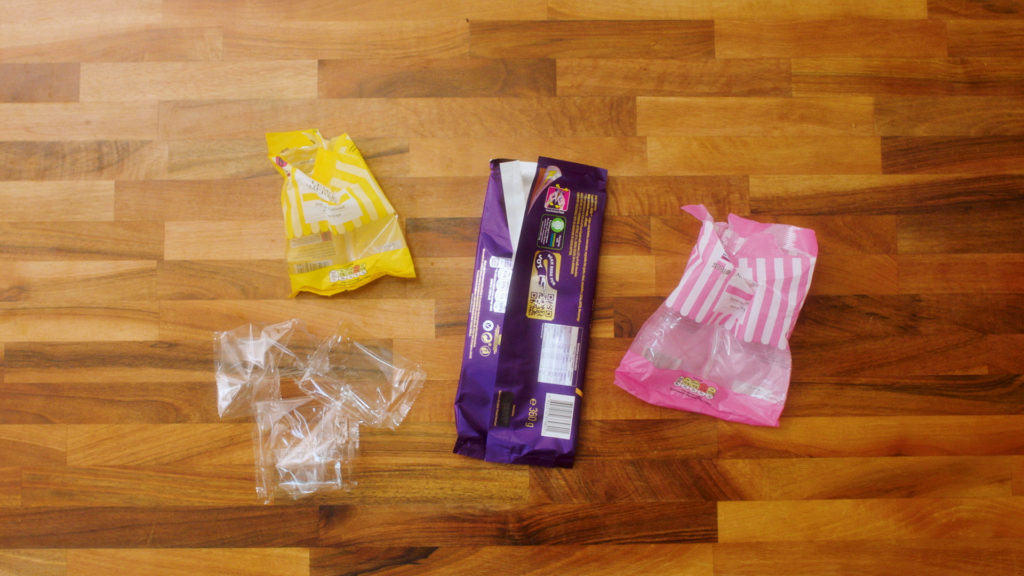 Why can't we just eliminate plastic bags and wrapping?
Of course, as the mantra goes – reduce, reuse, recycle – in that order! So before we recycle any plastic we should check where plastic packaging can be reduced, and reuse any plastic as much as possible (so long as it's safe and appropriate to do so).
Work is happening through initiatives like The UK Plastics Pact to eliminate any plastic packaging which is unnecessary or problematic. In fact, in February WRAP produced guidance for supermarkets on how they can remove plastic from their fresh uncut produce without this leading to the detrimental impact of food being wasted – much of this includes plastic bags that package our fruit and vegetables.
We should also reuse plastics where it is safe to do so, for instance by reusing plastic carrier bags as much and as often as we can. Further activity through The UK Plastics Pact is also exploring how refill options at supermarkets can become more widely available.
But where we can't reduce or reuse plastics, then we need to recycle it, as recycling is the most environmentally friendly way to dispose of a material after we can no longer use it.

The recycling process
Supermarkets are working with waste companies to collect the plastic bags and wrapping that we recycle at front of store. Given that only a limited amount of the material has been collected for recycling in the UK prior to roll out of recycling points by supermarkets, more infrastructure and investment is needed to recycle the plastic back into something that we will see on the shelves again (unlike other items such as plastic milk bottles – made of HDPE plastic – which can be recycled back into a milk bottle) – although this is changing and there are future developments in this area. Instead, currently plastic bags and wrapping are mostly recycled into something like bin bags (made from recycled polyethylene) or storage boxes (made from recycled polypropylene).
The ideal scenario would be for more of our plastic bags and wrapping to be recycled into packaging that we see back on the shelves, for example as food packaging, which can be recycled again and again – basically ensuring that the plastic can be recycled as many times as possible, rather than just once.
The good news is that, by increasing the amount of plastic bags and wrapping that we recycle, the more demand there is to improve recycling infrastructure and create alternative ways of recycling the material. Just like HDPE milk bottles, where recycling infrastructure was once limited; with time, if we keep recycling (and as best as possible), the demand to turn our plastic bags and wrapping back into another recyclable item will grow. The hope is that the more plastic bags we collect, the better the recycling process will become.
Some businesses are already working towards this goal and have begun increasing the amount of recycled plastic from plastic bags and wrapping in their packaging. For example, Kingsmill are using 30% recycled content in their bread bags using advanced non-mechanical recycling technologies. Read more about recycled content is important here.
Monitoring our recycling
There is also a need to monitor exactly where the plastic bags and wrapping are going once we have recycled it to ensure that it is recycled properly. All of this plastic material is subject to the relevant regulations and will be tracked and reported on the National Packaging Waste Database – however, as we've seen in the news recently, it's clear some plastic can still slip through the net and end up being dealt with irresponsibly. To avoid this happening, WRAP believes we should recycle as much plastic as possible in the UK to avoid losing sight of the material once it is shipped abroad. Work on this is already happening, for example a recycling plant owned by Jayplas in Birmingham has capacity to recycle up to 100,000 tonnes of plastic a year.
This is a big focus area for all plastics to ensure more of our packaging is properly recycled – you can read more about this here.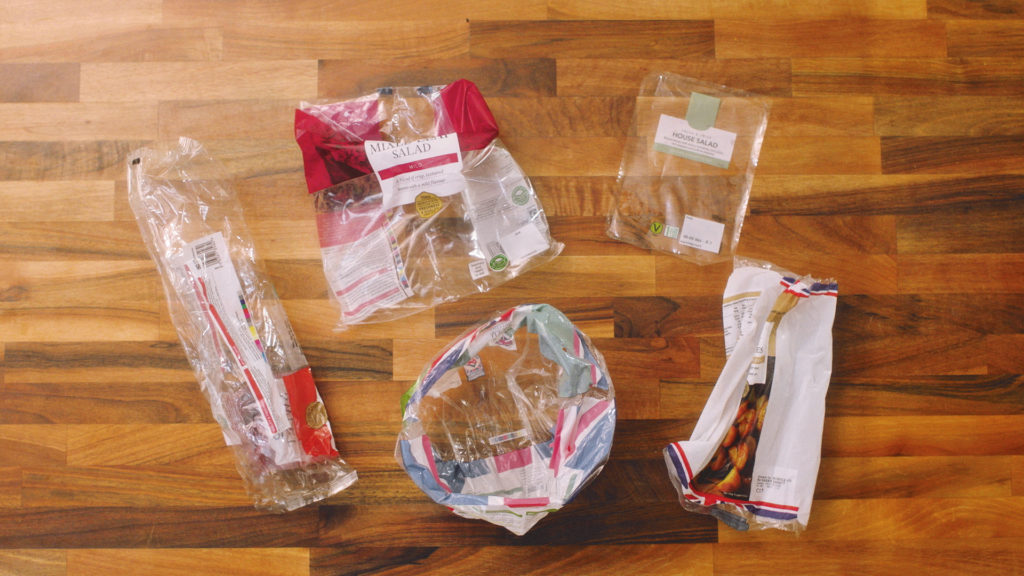 What plastic bags and wrapping can I recycle at supermarkets?
Soft plastics, plastic film, flexible plastics – whatever we call it, the good news it can all now be recycled at supermarket collection points. This includes bread bags, frozen food bags, delivery bags, cereal liners, toilet roll wrapping, crisp packets, chocolate and sweet wrappers, fish and meat wrapping, yogurt and punnet lids, citrus fruit nets (without the metal clip) … The list goes on!
As collection of plastic bags and wrapping for recycling at supermarkets is relatively new to us, you may find that the recycling labels (managed by OPRL – On Pack Recycling Label Ltd) on packaging of longer-lasting products, such as bags of rice, may still say 'not recyclable' as the packaging was created prior to supermarkets rolling out recycling collection points. If in doubt, Recycle Now has a handy Recycling Locator tool to help you find out whether the packaging can be recycled in your area.
It's important to ensure all the plastic bags and wrapping that we recycle at supermarkets is as clean as possible, as this will reduce contamination and make the material better quality for recycling. This will have a big impact on improving the recycling process, so it's an important step to take.
Visit Recycle Now to find out more about how to recycle plastic bags and wrapping, and to search for your nearest supermarket collection point via the Recycling Locator. Together, we can all make a difference by recycling.