Whether your routine is short and sweet or full of steps, it's likely you're using a range of beauty, wellness and toiletry products every day. Plastic is used to package many of these types of products so let's delve a little deeper into your bathroom cabinets to find out more.
Why is plastic used in the first place?
When it comes to beauty, wellness and toiletry products, plastic packaging can provide a protective barrier which allows the product to get to you in a way which is hygienic and safe. Plastic is durable so the product is protected during transit, and sometimes different coloured plastics can be used to prevent light damage to the product.
But we are all aware of the environmental consequences that plastic pollution can cause, and we all need to play our part to reduce plastic pollution.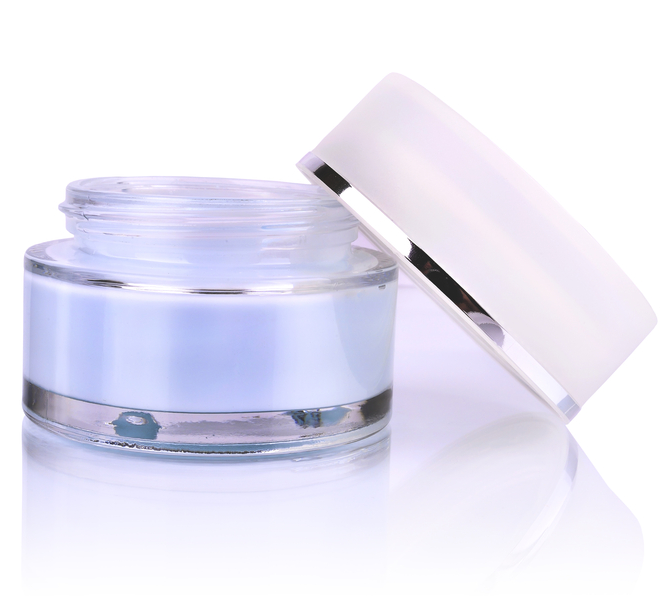 For businesses, brands and retailers, this means avoiding over-packaging of plastic where it is not necessary. Work is also being done through initiatives like The UK Plastics Pact to eliminate unnecessary and problematic single-use packaging, and some items are already on the way out, such as plastic cotton buds.
What about the cosmetics industry?
According to the Cosmetic, Toiletry and Perfumery Association (CTPA) – the voice of the British cosmetics industry – packaging laws require that the packaging volume and weight should be limited to the minimum adequate amount to maintain the necessary level of safety, hygiene and acceptance for the product and for the consumer. The recoverable nature of packaging should also be paramount.
Cosmetics manufacturers must try to strike the right balance between minimising packaging whilst ensuring that packaging:
protects and preserves the product, keeping it in perfect condition and suitable for transport and storage
provides space for the legally required information, e.g. ingredients list, any warnings, guidance for correct use and recycling information
protects the contents from contamination or degradation by air, light or water/humidity
remains easy to open, squeeze or pour to dispense the product
enables the product to be applied effectively
may have to be pilfer-resistant or tamper-evident
must be distinctive so that consumers looking to buy a specific product can find it easily on the shelf
represents the values of the brand, and
does not contain any hazardous substances and is designed to allow recycling or recovery.
What can you do to reduce plastic in your beauty routine?
You can reduce the amount of plastic you consume by buying your favourite products in bigger quantities so there is less plastic packaging required.
You could also look at packaging-free options like shampoo bars and solid soaps. There are alternative options to disposable face wipes like washable cotton face wipes that can be reused many times.

Some companies now offer refill options for their products, either in-store or online, such as Aveda, Charlotte Tilbury, MAC, REN Clean Skincare, Rituals, and Stila. And even skincare giant Olay is offering their Regenerist Whip Moisturiser with a refillable pod that fits into the original jar once it's empty.
Four big shampoo brands owned by Proctor & Gamble (P&G) – Head & Shoulders, Pantene, Aussie and Herbal Essences – are set to launch aluminium bottles and refill pouches using 60% less plastic in 2021. Together with P&G's aim to reduce its use of virgin plastic in its main hair care brands by 50% in the next year, this will halt the production of approximately 300 million plastic bottles a year.
There are also a host of independent refill shops across the UK that may offer refill options for hand soap, moisturiser, shampoo and conditioner. Check out this list to find one in your local area.

Plastic bottles for shampoo, conditioner, shower gel, liquid hand soap and body lotion can be recycled at home using your local Council's collection. If you're ever unsure, use the handy Recycling Locator to check what can be accepted in your area.
It takes around 95% less energy to make products from recycled materials than using raw materials, so look out for companies who use recycled content in their packaging. For example, L'Oréal Paris Elvive shampoo and conditioner bottles are made from 100% recycled materials and are fully recyclable, saving 5000 tonnes of virgin plastic every year.
Many brands partner with Terracycle to offer a recycling programme for their used products.  Did you know that you can drop-off your old plastic toothbrush, toothpaste tubes and caps and outer packaging, dental floss containers and outer packaging, and electric and battery toothbrush heads – all from any brand – through the Colgate Oral Care Recycling Programme?
Take a look at the Terracycle website to see what other recycling programmes are available.

For smaller items that can't be recycled at home there are many schemes in retail stores where these items can be collected for recycling. You could also be rewarded for getting into the habit of returning empty products.
Boots have introduced a recycling scheme for beauty, health and wellness products where you receive 500 Advantage Card points for returning five items of any brand. The scheme accepts a wide range of hard to recycle products such as toothbrushes, toothpaste tubes, lip balms and creams, deodorant roll-on and sticks, and make-up brushes and sponges. A full list is available on their website.
John Lewis offer their BeautyCycle service where you can receive £5 off your next beauty purchase when you return five used beauty products from any brand. They accept all beauty jars, tubes and caps (including glass), non-pressurised hair spray bottles, lip beauty products (tubes, lipstick, lip balm), mascara tubes, eye liner pencils and cases, eyeshadow tubes/palettes, and concealer/foundation tubes/sticks.
Kiehl's reward you with 5% off your next purchase for returning five empty products from any beauty brand, and 10% for returning 10 empty products.
L'occitane offer a similar scheme where you'll receive 10% off your next purchase when returning empty beauty or skincare products to one of their boutiques.
If you drop off any empty Beauty Kitchen packaging with the Return Refill Repeat logo at a Holland & Barrett store, you can receive free points on your Holland & Barrett loyalty card. Alternatively, you can send their empties back to them via a free postage service.
And Lush will give you a free fresh face mask when you return five of their black, recyclable pots.
For make-up fans, Maybelline have collection points in 1,000 Boots, Superdrug, Tesco and Sainsbury's stores nationwide accepting all brands of make-up products.
And MAC offers their customers a free lipstick when they return six MAC primary packaging containers.
Finally, there is no silver bullet solution for reducing plastics in our beauty routines. But if enough of us adopt the 4 Rs, together we can make a significant difference.
Share this article with your friends and follow us on social media for more tips.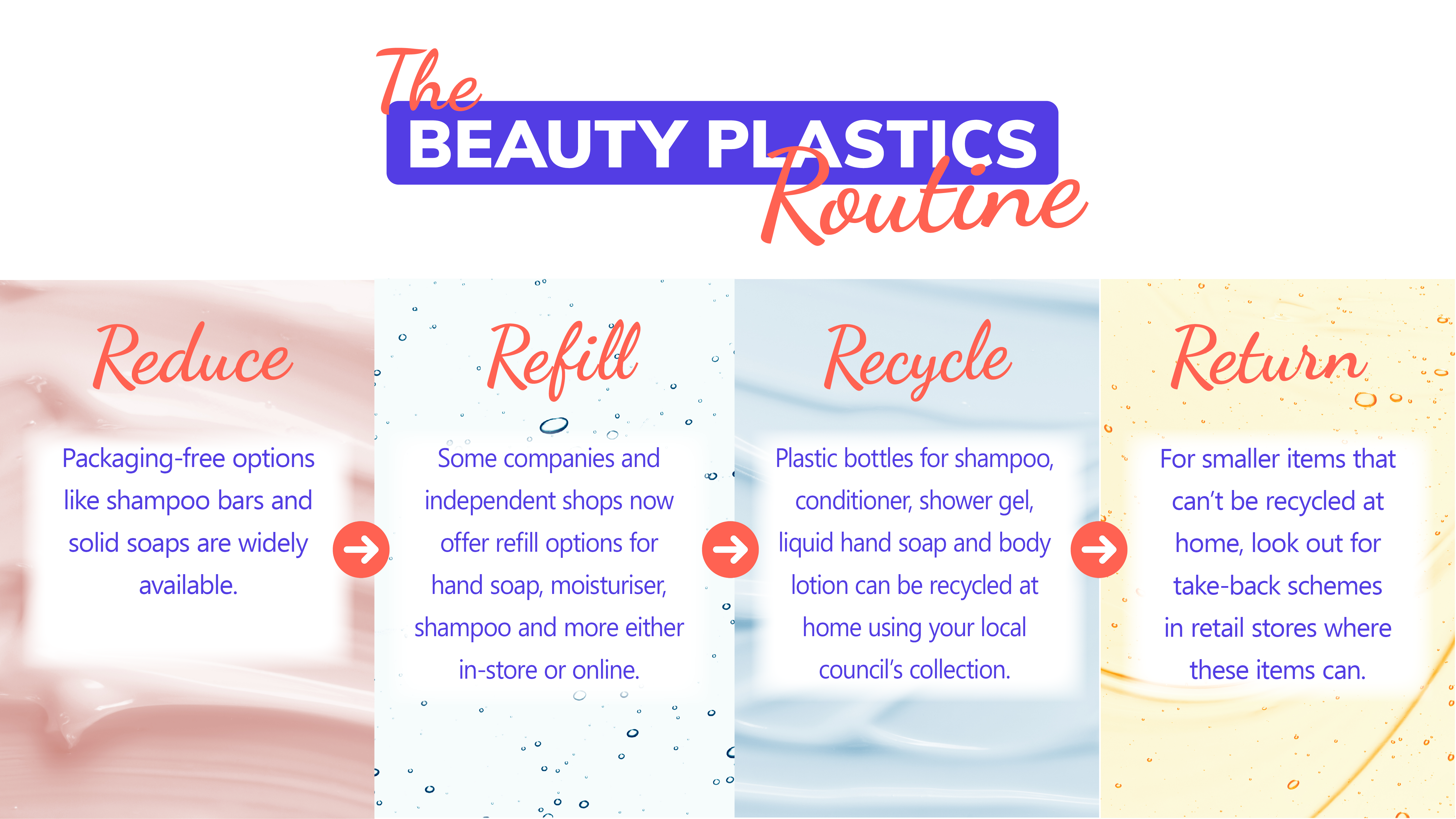 Share this article with your friends and follow us on social media for more tips:
To find out more about what to recycle where you live, visit
recyclenow.com