Since the 5p plastic carrier bag charge came into force, plastic bag consumption in supermarkets has gone down by 90%[1]; and on 21 May 2021 the charge extends to 10p and will be applied across all shops, regardless of size. While it's great news for the environment that carrier bag usage has gone down, 1 in 4[2] of us are still buying bags at the till. Hopefully the extended charge will help give us a nudge, but we all need to get into the habit of carrying bags with us. Doing this will save money and help save the planet.
Single use plastic bag use is down
We have all become more aware of the impact plastic pollution can have. Plastic carrier bags are one of the plastic items we most frequently use and top our list of online searches over any other plastic item, so it's important we use them in the most sustainable way.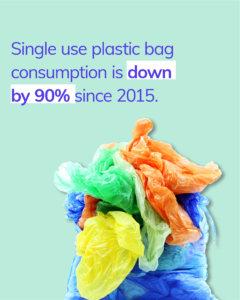 The good news is we're using fewer bags in recent years. Plastic bag use is down by 90% at supermarkets since the 5p bag charge came into place in 2015, meaning that fewer plastic bags need to be produced and demand for natural resources is lower.
On 21 May 2021, the charge for plastic carrier bags extends to a 10p charge, and will apply to any retail outlet including supermarkets, small businesses and shops and takeaway services.
Our reduced plastic carrier consumption has a big impact on the environment. Fewer plastic carrier bags being produced means that fewer natural resources are needed to create new 'virgin' plastic, and carbon emissions associated with production and transportation are also reduced.
So how can we ensure we use the carrier bags we do have at home in the most sustainable way?
Reuse, reuse, reuse!
Reusing bags is one way we can all have impact, as it reduces the need for production of new plastic carrier bags, and keeps them in use and out of the environment.
In England, 94% of us say we own a re-useable bag for life, which can be used multiple times and reduce the need to purchase more plastic carrier bags. In fact, for fabric or durable plastic bags for life, 70% of people say we use these 11 or more times – and almost half of us say we use these bags 50 or more times.
However, in a recent WRAP survey a third[1] of us also say we have bags for life at home which are rarely used; and one in four[2] people said they had bought carrier bags at the till when shopping in the previous two weeks – in many cases when we already had a surplus of plastic carrier bags at home (the average number of bags we say we have at home is nine).
The most common reasons for this are because bags have been forgotten, followed by not having bags to hand when doing an unplanned shop.
Top tips for reusing your plastic carrier bags:
Reuse your bags (of any material) as much as possible – the most sustainable bag you can use is the one you already have!
Keep some carrier bags ready for 'on the go' shops – in your bag, in the boot of your car or attached to your bicycle, for example. Many can be folded down and kept in a pocket for convenience.
Add carrier bags to your check list when you leave the house, along with other essentials like your wallet and keys.
What to do with plastic carrier bags that can no longer be used?
In the UK, most of us cannot recycle plastic bags in our home recycling. Over a third[3] of single-use carrier bags are being disposed of in the household recycling where they may not be accepted locally, and over one in three fabric or durable plastic bags for life are disposed of in the household recycling where they may not be accepted locally. Check with your local authority if you are not sure about your local collection.
Some supermarket retailers offer collection points at the front of their store for plastic bags and wrapping – check to see if yours does when you do your next shop. Supermarkets are working quickly in the UK through The UK Plastics Pact to make this service more widely available.
If you get home deliveries, check with the retailer to see if they offer your shopping without carrier bags, or they may collect the bags for recycling when you receive your next delivery. You can also make good use of the bags you receive with your online shop by reusing them.
If the plastic bag is made from compostable material and you have a food waste collection, then you can use it as a food caddy liner. If not, then it's most likely you will need to put it in the waste bin. Never put it in the recycling because it contaminates the other plastic which is designed to be recycled.
What about carrier bags made from other materials?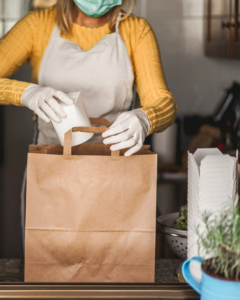 There are several carrier bags of alternative materials types offered by various retailers, such as paper and compostable plastic. We need to remember that regardless of what the bag is made from, it has an environmental impact. The most important action to reduce that impact is reusing the bag.
Switching from one material to another isn't necessarily 'better' or 'worse' for the environment. There are often environmental trade-offs.
Read more about switching from plastic to another material here.
Read more about compostable plastics here.
Whatever the material; using the carrier bag as much as possible, and then recycling it once it can no longer be used, are the best ways to ensure you're using the bag in the most sustainable way.
Compostable plastic bags can be used as a food caddy liner if you have a food waste collection. Do not put these in with your other plastic recycling.
Paper bags can be recycled.
[1] 31%
[2] 26%
[3] 37%